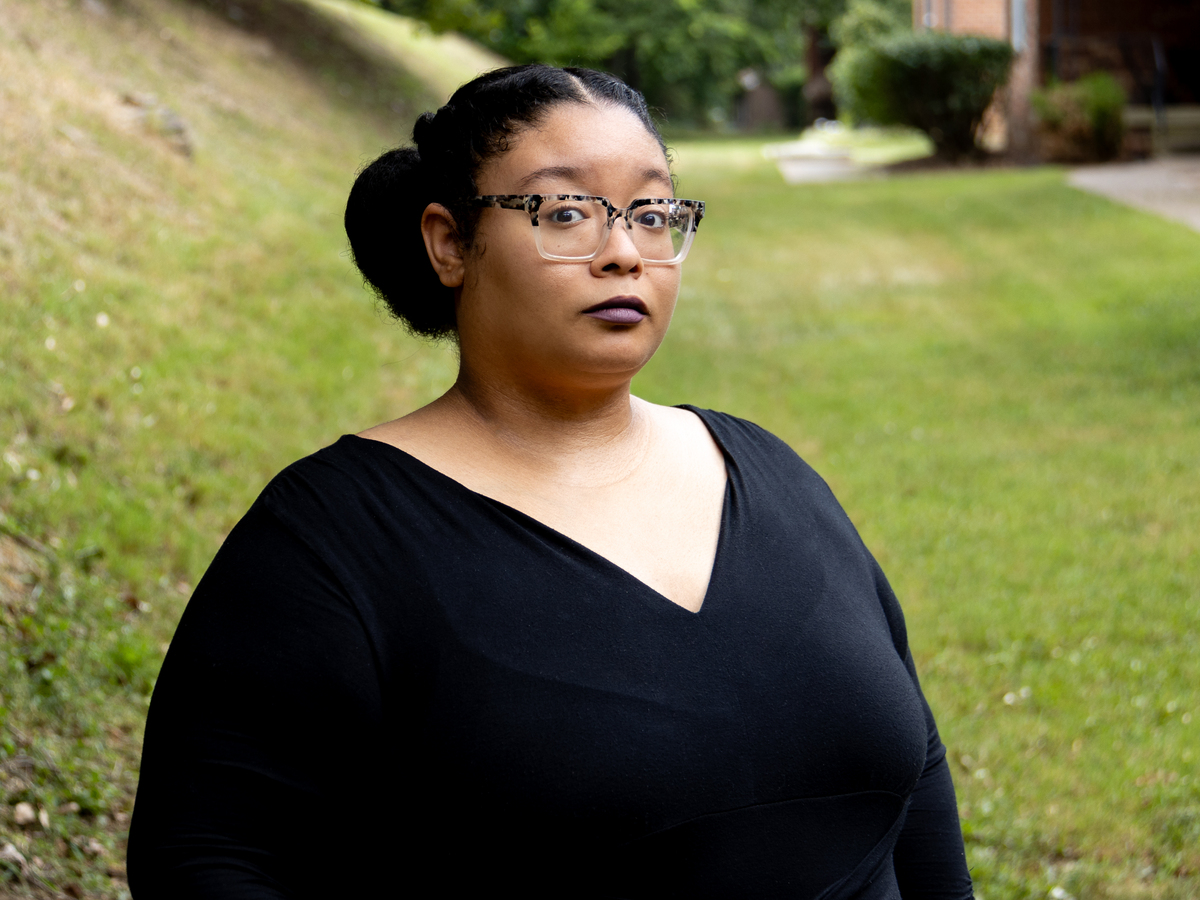 Splash Cinema/Center for Reproductive Rights
Nicole Blackmon was denied an abortion even though her fetus had a lethal condition and Blackmon showed signs of dangerously high blood pressure that could have killed her.
Instead of being able to end the pregnancy as soon as she found out her fetus was not viable, she had to carry the fetus for weeks and labor for 32 hours before giving birth to a stillborn child.
Blackmon is one of eight patients and four doctors who are bringing new legal actions against three states with full abortion bans — Tennessee, Idaho and Oklahoma.
In all three states, patients say that the abortion laws in effect since Roe v. Wade was overturned last year interfered with their care during dangerous pregnancies.
The number of states with abortion bans in effect continues to tick up — the count is now at 17 states.
The legal actions filed this week are similar to a lawsuit being appealed to the Texas Supreme Court now, and the same organization, the Center for Reproductive Rights, is bringing the cases.
"After we filed our case in Texas, our phones started ringing off the hook," says Nancy Northup, the group's president. Northrup and the plaintiffs spoke to reporters during a news conference held via Zoom on Tuesday.
Losing two children in one year
Blackmon and other plaintiffs told dramatic stories, describing how abortion laws interfered with their care.
In 2022, Blackmon had been grieving the murder of her teenage son in a drive-by shooting when she unexpectedly and very happily found out she was pregnant. But in her second trimester, she learned that her fetus's organs were developing outside its body and that the baby was not going to survive. Meanwhile, her own health was in danger due to preeclampsia, elevated blood pressure that can be deadly for pregnant women.
"I was told I was at high risk of having a stroke," Blackmon says. "Everything hurt. My vision got blurry, and I felt sharp pain when the baby moved."
She was also told she could not end her pregnancy in Tennessee, and she didn't have the financial means to leave the state. She had to wait to go into labor at 31 weeks.
Blackmon says she is now grieving two children and is still dealing with blurry vision that she developed during her pregnancy.
Support needed for travel
In Idaho, Jennifer Adkins found out her fetus had Turner syndrome, a condition that is fatal for the fetus and puts her at risk of "mirror syndrome." That's a phenomena where the mother develops the same life-threatening conditions as the fetus. Despite the risk to her health, Adkins had to travel to Oregon for an abortion.
Splash Cinema/Center for Reproductive Rights
"People need to understand how these bans can affect the people they know and love," Adkins says.
She needed financial support from family and friends, as well as two abortion funds, in order to make the trip to end her pregnancy.
Told to wait in the parking lot to get sicker
In Oklahoma, a woman named Jaci Statton, recounted the story of how she was told to wait in the parking lot until she got closer to death and doctors could provide an abortion. She'd had a molar pregnancy that would never become a viable fetus but was a very serious threat to her health.
Statton told NPR in April about how — sitting in the hospital — her husband, Dustin, feared she would die.
"I look over. And he is just, head in his hands," Statton recalls. "This huge, 6-foot guy. He's like, 'I'll lose everything, I'll lose my family.'"
Statton has filed a complaint against Oklahoma Children's Hospital — for violating a federal law called EMTALA, that requires hospitals to stabilize patients facing a life threatening condition.
Each state that bans abortion includes some kind medical exception, but it's become clear that those exceptions don't always prevent the situations these patients describe.
Physician calls for action
In both new state lawsuits, physicians are plaintiffs, too.
Dr. Emily Corrigan told reporters Idaho state lawmakers are award that Idaho's abortion law is causing problems and having unintended consequences, and they've said as much publicly.
Some told her that they never thought that Roe would be overturned, she says. "I've heard them say all those things, but we have not had enough action," Corrigan says.
She's willing to try any means necessary to improve the situation for patients and doctors, including going through the courts because — she says — the status quo is "dire."
A spokesperson for the attorney general of Tennessee said they hadn't received the complaint yet.
OU Health, which runs Oklahoma Children's Hospital, issued a statement saying the care it provides "complies with state and federal laws."
The Idaho attorney general has not yet responded to our request for comment.
Denial of responsibility! Samachar Central is an automatic aggregator of Global media. In each content, the hyperlink to the primary source is specified. All trademarks belong to their rightful owners, and all materials to their authors. For any complaint, please reach us at – 

[email protected]

. We will take necessary action within 24 hours.